Maintaining an orderly home is a crucial step in reducing stress and enhancing your overall well-being. Organizational systems and tools play a vital role in achieving this goal.
Storage Solutions
Closet Organizers
Maximize your closet space with modular closet organizers. These systems often feature adjustable shelves, hanging rods, and drawers, providing a designated place for every item in your wardrobe.
Under-Bed Storage
Invest in under-bed storage containers or drawers to keep items like off-season clothing, shoes, or extra linens neatly tucked away.
Floating Shelves
Floating shelves are a stylish and practical addition to any room. They create extra storage space for books, decor, or kitchen essentials while maintaining a sleek, uncluttered look.
Cabinets and Armoires
Cabinets and armoires offer concealed storage, perfect for keeping things out of sight. These pieces can be placed in various rooms to hide clutter and maintain a clean appearance.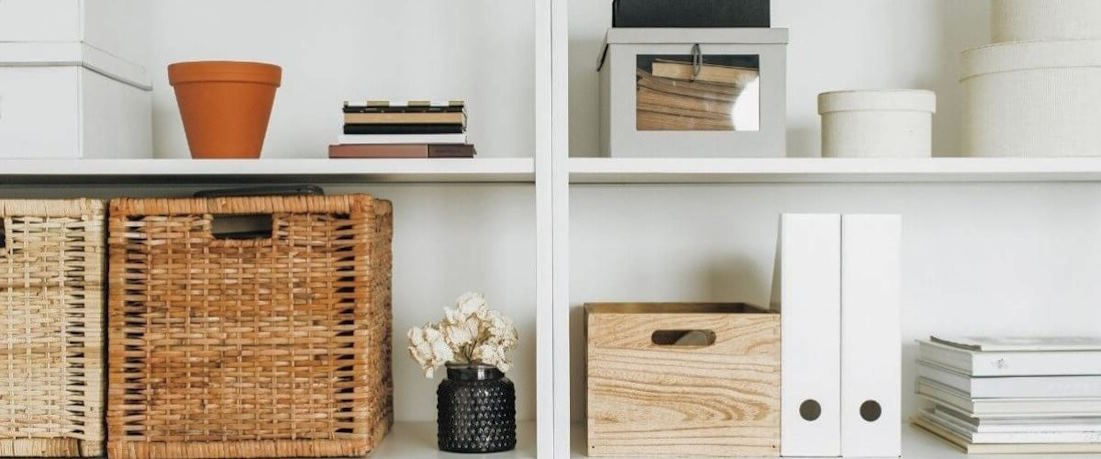 Modular Furniture
Furniture items like ottomans or coffee tables with hidden storage compartments are multi-functional. They allow you to store items while serving as functional pieces in your home.
Shelving Systems
Bookcases are versatile and practical shelving solutions. They're not just for books; they can display collectibles, store kitchen supplies, or hold baskets for the organization.
In kitchens, garages, or home offices, pegboards are a customizable and efficient shelving option. You can hang hooks, bins, and accessories to keep items within easy reach.
Wire shelving systems are lightweight and adjustable. They're suitable for closets, pantries, or garage storage, allowing you to configure them to fit your needs.
For a seamless and custom look, built-in shelves can be designed to fit specific spaces, such as nooks or niche areas. They provide an ideal way to maximize storage while adding architectural interest.
Grid systems are often used in home offices or craft rooms. They consist of panels with accessories like hooks, shelves, and baskets that can be arranged as needed.
Containers and Bins
Transparent containers allow you to see what's inside, making it easy to locate items without rummaging through boxes. They're great for storing seasonal clothing, holiday decorations, and more.
In kitchen drawers or closets, dividers help separate and organize items neatly. They prevent clutter from accumulating and ensure everything has its designated place.
Decorative baskets and bins can be placed in living rooms or bedrooms to store magazines, toys, or blankets. They serve as both functional and aesthetic pieces.
Stackable bins are excellent for optimizing vertical space in closets or garages. They allow you to store many items while keeping the space organized.